Light And Fan Pulls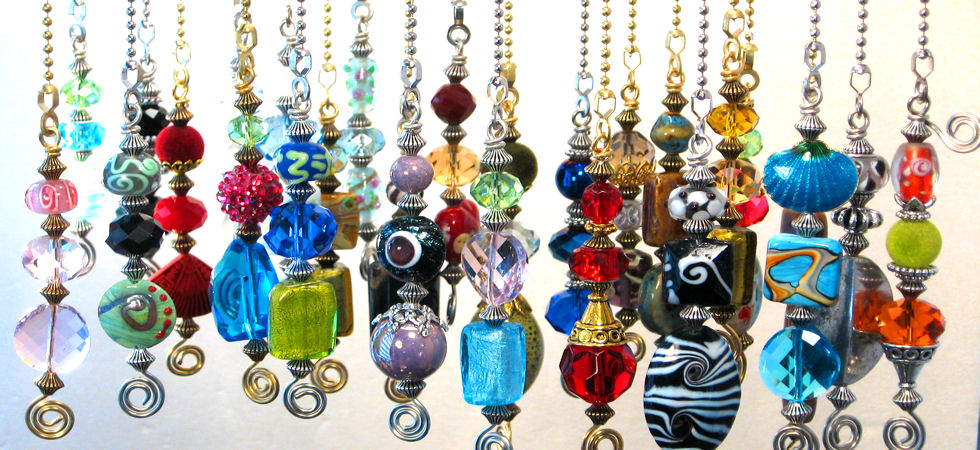 Give your old or new ceiling fan an instant upgrade by replacing inexpensive, factory direct pull ornaments with fresh, fun new ones. You can go for a theme design or match them to your decor--there are so many options to choose from! For animal lovers there are cats and dogs, lizards and pigs, dragonflies and butterflies, dinosaurs, horses even zombies (okay, they're not animals but that act pretty wild :)!
Choose stylized fan pulls like Arts & Crafts designs; modern, contemporary to antique filigree options; downright playful and whimsical to elegant and charming fan pulls that will have you cranking your neck up towards the ceiling.
How to attach them? They're flexible and easy little add-ons. Detach at their base or attach at the connector ends. Or perhaps there's too much chain for you? Then snip it with an at-home wire cutter and reattach the chain to the end connector and snap onto your existing fan pull chain...it's a cinch!
Here's A Tip Replace both pull chains with different but complementary designs (one for the fan and one for the light controls), this way you will instantly know which one turns on the light and which one to grab for when you only want the fan on.
Fun Room Ideas Keep the theme of each room going with ceiling fan pulls for the whole house.
How about coffee pots and pans or knifes and forks for the kitchen
Airplanes or dinosaurs for the boys' room
Butterflies or puppies for the girls' room
Hack saws for the man cave or dice for the game room
Ethnic African beaded styles or casual denim porcelain looks for family rooms
Ethereal angel wings for bedrooms
Glimmery rhinestone and faceted glass eye-catchers for glamorous dining rooms
Possibly puppies on the closet pulls or kitties in the mud room?
Have some fun with it!